Press Releases and News Articles
Kids on the Block (February 2015)
Adoption Journeys Celebrated (November 2014)
New Haven Couple Honored with National Adoption Award (November 2014)
'r kids Family Center Prepares for Expansion (November 2014)
CT Non Profits Take to the Capitol to Highlight Community and Economic Impact (March 2013)
                                                                                                                                                                                                    Feb 10, 2015
Just north from where Dixwell Avenue meets Goffe and Whalley, a long, red brick building with blue window frames keeps an otherwise low profile. What signage it has is oblique: a marbled stone towards the center of the facade reads "With each new child… the world begins anew;" a cornerstone low to the ground reads "Families for 'r kids."
'r kids, it turns out, is the name of the organization that does its work on the other side of those bricks and stones and windows. 'r kids focuses on the family—the bedrock, in-it-for-the-long-haul kind, providing "permanency support services" to those who've entered into the state's Department of Children and Families system. Among many other things, this means maintaining facilities—playrooms, a library, cribs, a changing station, a kitchen—where new or distressed parents can learn to become parents, and where distressed kids can be kids.
It was a freezing-cold night in 1996 when the nonprofit's married co-founders Randi
Rubin Rodriguez (pictured above) and Sergio Rodriguez opened their Westville home to three dozen foster and adoptive parents, pediatricians, child welfare workers, women in recovery and attorneys looking to determine how they could help "sustain family integrity for families impacted by substance abuse and violence," as the website puts it. That was a foundation.
Later, after receiving a starter grant of $3,500 from The Community Foundation for Greater New Haven and staging a series of five racquetball tournaments (Sergio is a big fan of the sport), it took 'r kids Family Center about a year to raise $1 million for building its 4,300-square-foot headquarters, reclaiming previously abandoned plots that'd attracted crime and vice, with an additional $700,000 earmarked for programming.
The goal was to create a supportive environment for children to spend time with their parents when they've been separated by difficult circumstances. Arranged in neat offices intermingled with service facilities, a diverse staff, now numbering 12, has helped about 2,500 children and adults in need of affordable and safe housing, day care, medical issues, clean bedding, heat and utilities, employment, education, legal aid and… well, you get the idea.
The building's grand opening occurred in June 2003. Ten years later, a grand block party was held that closed Dixwell Avenue, from Webster to Broadway, with free food, Radio Disney reps, forty community exhibitors, games and lots of citizens and politicians being honored for their support—people like mayor Toni Harp, herself an adoptee.
Challenging one of the stigmas associated with distressed families, Randi says, "It's not about kids not being loved. 97.6% of parents come to visit at their scheduled appointments." If parental rights do have to be terminated, 'r kids assists in cementing the establishment of the new family while maintaining a good relationship with the original family unit. 'r kids is frequently involved with pre-adoptive parents and work hard, Randi says, "to ensure the two mommies are friends. I've seen amazing relationships develop." While the statewide reunification rate is about 50%, 'r kids's is significantly higher—pushing 80%, according to the nonprofit's website.
'r kids also gets its families out and about, putting on annual Lighthouse Point beach barbecues and outings at Sports Center of Connecticut in Shelton, where families can enjoy activities like mini-golf, batting cages and bowling. The value of such outings can be seen in an anecdote: one nine-year-old was overheard saying, "I never had so much fun with my dad in my life." Other efforts include providing Thanksgiving food baskets courtesy of BL Companies of Meriden; giving kids new and comfy PJs; and throwing a Christmas party provided by Yale-New Haven Hospital. The goal for the holidays, in particular, is to create happy memories.
The next project on the organization's busy plate is literally to "Raise the Roof." 'r kids has outgrown its one-story complex and is working on adding second and third floors. Artist's renderings, floor plans and cost estimates are in; now it's a matter of raising the money necessary to raise that roof.
It's roof overhead, and for some of the most vulnerable citizens of Connecticut, it can mean a roof overhead, and a family to share it with.
Written by Bonnie Goldberg. Photographed by Dan Mims.
Adoption Journeys Celebrated
BY DAVID SEPULVEDA | NOV 18, 2014 12:46 PM
Event sponsors insisted it was not a workshop or seminar, but it had all the hallmarks of one. Flip charts with prompts scrawled in magic marker lined the walls of the hall. On tables sat programs to go along with bright-red information packets. November is National Adoption Awareness Month and invited speakers drove shards of awareness into every heart present.
Billed as a celebration of "life-long, life-changing journeys through adoption," the event held Thursday at Lyric Hall was sponsored by 'r kids, Inc., Family Center, a local nonprofit organization that serves "children in out-of-home care and their families; promoting permanency, safety and stability for children through services to their biological, foster or adoptive families."
Kicking off the celebration was world-touring harmonica master Chris DePino and guitarist Tony Dioguardi. DePino, a former state representative, was instrumental in securing some funding to get 'r kids, Inc. started in 1996. Mayor Toni Harp, herself an adoptee, was a co-sponsoring legislator of the organization during her tenure as a state senator. Joining the musicians on stage during the reception was state Department of Education assistant and former New Haven alder Sergio Rodriguez, who entertained with a rendition of Gershwin's "Summertime."
In her welcoming remarks, Randi Ruben-Rodriguez, executive director and co-founder (with husband Sergio Rodriguez) of 'r kids, talked about their personal adoption journey. Rubin-Rodriguez described the dynamics of adoption—the sacrifice of the birth mother, the excitement of the adopting family—as "a puzzle that in some way, you all have a piece to." The Rodríguezes have held more pieces than most, having adopted three children and provided foster care for up to thirty-five children over the years.
The extent to which adoption touches the general population, however, may be surprising. According to a 1997 study for the Donaldson Adoption Institute, "six in 10 Americans have had personal experience with adoption, meaning themselves, a family member, or a close friend was adopted, adopted a child, or put a child up for adoption."
As an adoptive parent of two children, I figure into that number, but my interactions with guests at the celebration brought me a new awareness about the adoption community. When I asked Sharon Lovett-Graff, a neighbor who is head librarian at Donald Mitchell Library, if there were any adoptees in her extended family, she smiled broadly and said, "yes, me." My surprise was met with good-natured humor. "Adoption comes in handy," Graff quipped. "You know those few crazy people that everyone has in their family? I'm not [biologically] related to them."
On a more serious note, Lovett-Graff said that she didn't know she was adopted until she was fourteen years old. A difficult aspect of being adopted, she noted, is that often, adoptees cannot access their medical histories. "I know nothing about my medical history," she said. In many cases, because of archaic notions and anachronistic laws, adoptees are not only excluded from knowing their medical histories, but are also denied access to original birth certificates (OBC), a key to understanding their biological parental connections, cultural heritage, and ethnicity—elements of personhood most take for granted.
Addressing some of those issues was psychotherapist and attorney Karen Caffrey, an adoptee and president of Access Connecticut, a grassroots organization dedicated to restoring the right of Connecticut adult adoptees to have legal access to their OBCs. Before 1974, Caffrey said, Connecticut law allowed adult adoptees such access. There have been some recent legislative gains in restoring adoptee rights, but her organization continues to challenge myriad myths about adoption—myths that, together with discriminatory laws, relegate adoptees to second-class citizenship status in some cases. Access to one's birth certificate, Caffrey and countless others believe, is a human right.
The featured speaker of the 'r kids event was state comptroller Kevin Lembo, who, together with his spouse, are adoptive parents of three children. Lembo said that the very moment he saw pictures of his children in a "blue book" of children waiting for a "forever family," they became his children. It took several years of litigation and facing a judge "who thought our family wasn't good enough," however, before the adoption became official and the children, both with special needs, could go home.
Adopting a third child went more smoothly, but raising the child had a whole new set of challenges, as Lembo was awakened to the realities of being a young black man. "As a white person of privilege, I had to teach my black child how to behave when confronted with police." Lembo also recounted an incident in which a store clerk treated his son in a discriminatory manner.
In a National Adoption Month announcement to state employees the day after the 'r kids celebration, Lembo encouraged state employees to look into adoption or foster parenting. "I don't mean to say that being a foster or adoptive parent is always easy," Lembo wrote, "but the challenges in the context of this life-giving journey have always felt small to me…. Give a child the gift of home and your life will never be the same."
Based on the success of the r'kids sponsored event, Rubin-Rodriguez said that a much-needed adoption awareness series that will continue the dialogue is in the planning stages.
New Haven couple honored with national adoption award (November 2014)
NEW HAVEN >> U.S. Sen. Richard Blumenthal stopped Friday at 45 Dixwell Ave., the home of an adoption and reconnection agency he had nominated for a national award.
"I can say categorically there is nothing more important than providing safe and secure loving homes to the children," Blumenthal, D-Conn., told the founders of 'r kids Family Center, Randi Rubin Rodriguez and her husband, Sergio Rodriguez. "They are our future, just as all children are."
The couple recently received with the Congressional Coalition on Adoption Institute's Angels in Adoption award.  Joining Blumenthal on the visit was Mayor Toni Harp. Harp, who was adopted as a baby by her grandparents and stressed the importance of the award's timing.
At the 'r kids Family Center in New Haven Friday, l to r, New Haven Mayor Toni Harp, 'r kids Executive Director and co-founder Randi Rubin Rodriguez, U.S. Sen. Richard Blumenthal, 'r kids co-founder Sergio Rodriguez.
Click here for full article:  Article
Click below for video on Senator Blumenthal and Mayor Harp's congratulations to Randi and Sergio (may take a few minutes to load but worth the wait – will be moved to YouTube in the near future so will load faster):
'r kids Family Center Prepares for Expansion (November 2014)
'r kids Family Center has been working with BL Companies, an Architecture and Engineering firm who has donated their services, to provide concepts of adding a second and third floor to the existing facility and also with Al Secondino to provide preliminary estimates of construction.
The existing one story building was built in 2003 with the foresight and intention of expanding the building and service offerings.  The structural foundation was designed such that a second and third story could be accommodated.  The aggressive plans and hopes of 2003 are now a potential reality in 2015.
'r kids Family Center has achieved such phenomenal results in their program and effectiveness.  The success of 'r kids Family Center has led the Board and the management team to want to move forward with the original plan to expand.
Below is a concept prepared by BL Companies which illustrates what the expansion might look like.

While the designs are in the early stages, the capital campaign is already being planned.
The expanded facility will allow for more services and programs that support the underserved children and their families in the greater New Haven community.
Connecticut Nonprofits Take to the Capitol to Highlight Community and Economic Impact (March 2013)
During the recent "CT Nonprofits Week at the Capitol", 50 members of the Connecticut Association of Nonprofits (CT Nonprofits) showcased the work they are doing to enhance the quality of life for all citizens of Connecticut.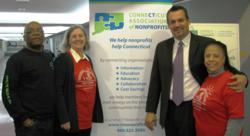 Click here for full article:  Article
'r kids selected as Great Nonprofits again in 2013
'r kids Family Center was selected in 2013 as one of the top rated Great Nonprofits. They received that honor in 2012 also.